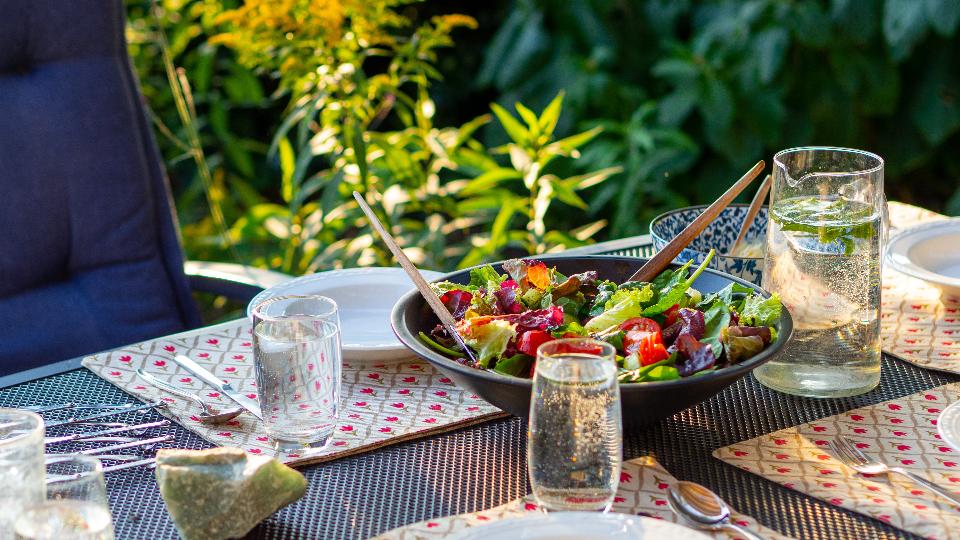 5 Summer Salad Recipes
July 25, 2023
We've reached the dog days of summer. The thought of turning on the stove or oven can feel unbearable. We've all been there, haven't we? The desire to whip up elaborate meals diminishes with each degree in temperature, leaving us searching for a way to stay cool and refreshed.
But don't worry; we have a way to beat the heat while satisfying our cravings for something refreshing – summer salad recipes! These require minimal cooking effort and make the most of the season's produce.
Our mission here is to share a collection of salad recipes that are easy to prepare and perfect for those moments when the thought of cooking makes us consider ice cream for dinner. So, let's turn these sweltering days into a feast that will refresh us and please the entire family.
Cowboy Caviar
We love its freshness; the kids love it because they can eat it with chips! It's a family favourite. The saltiness of the chips combined with the freshness of the tomatoes, the crispness of the pepper, the subtle heat of the jalapeno, and the faint hint of lime and garlic…. We're obsessed.
We used Co-op ingredients with Food Tiktoker, Bria Lemirande's recipe. (4-5 servings)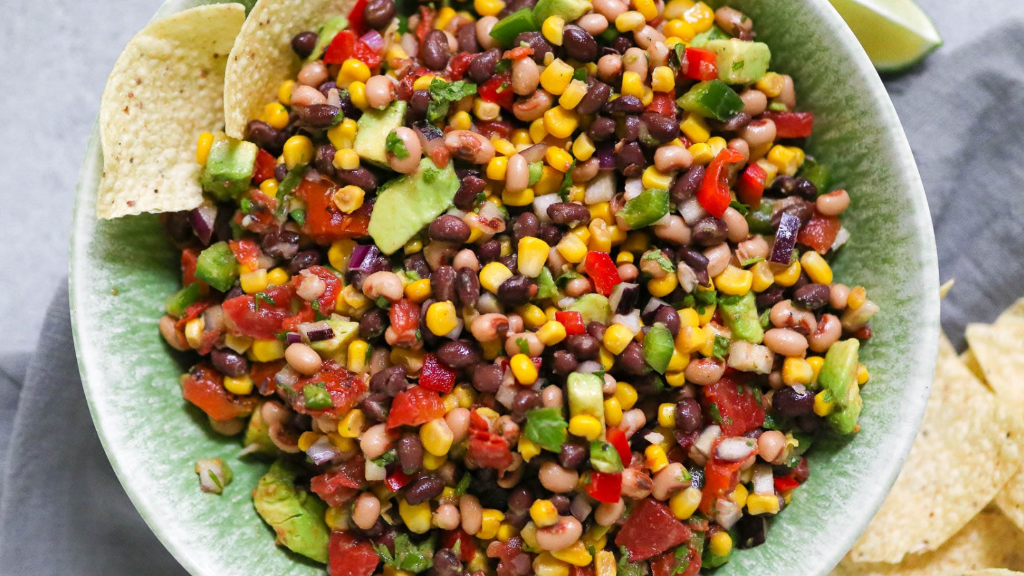 Ingredients
For the Dressing:
3 limes, juiced
1⁄2 cup olive oil
1⁄4 cup white wine vinegar
3-4 tbsp taco seasoning
Salt and pepper to taste
2-4 tbsp spicy honey (We recommend Peace River's Hot or Pineapple Jalapeno Honey, sold in all our Food Stores)
3 tbsp sugar (add more according to desired sweetness)

For the Salad:
1 red bell pepper
1 orange bell pepper
1 yellow bell pepper
1 green bell pepper
2 jalapeños
3⁄4 of a red onion
Black olives (Lemirande encourages you to "measure with your heart")
1 mango
1 container of Feta cheese
2 avocados
2 cans black beans (rinsed)
1 can pinto beans (rinsed)
2 cups sweet corn
Directions
Cut and combine all ingredients in a bowl and serve with a side of chips for dipping
We suggest cutting all the ingredients into uniform, small pieces. You can watch Lemirande do so here.
Plant-Based Pasta Salad
For those looking for something entirely plant-based, we got you covered with this pasta salad. It's a summer classic that is the perfect side to any barbeque. Get the full recipe here.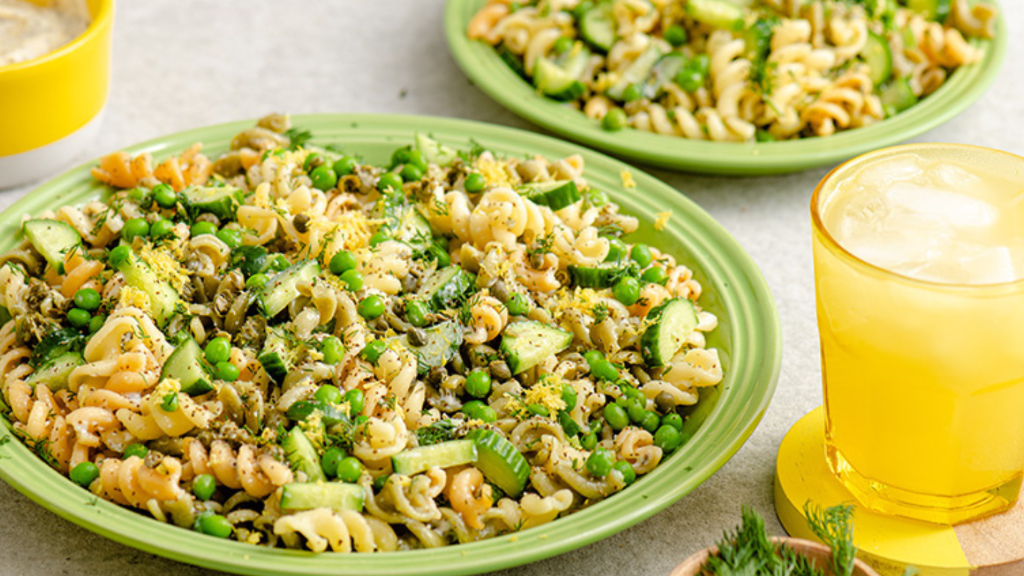 Ingredients
250 g fusilli
2 baby cucumbers, halved and sliced ½-inch (about ⅔ cup)
½ tsp salt
1 tbsp capers, chopped
1/3 cup peas
2 tbsp fresh dill, minced
1 cup plant-based (vegan) mayonnaise
½ tsp celery seed
½ tsp garlic powder
½ tsp onion powder
½ tsp lemon zest
Directions
Cook fusilli according to package instructions and let cool.
Add salt to the cucumbers and toss well. Let the cucumbers sit for 20 minutes, then rinse with cold water.
Add cucumbers to cooled fusilli along with all other ingredients and mix well.

Blueberry, Pecan, Feta Salad
It's blueberry season, and you already know that with all that berry picking, we must find creative ways to put the berries to good use. Although you can never get tired of blueberry pancakes, we thought we would switch it up and give you ways to incorporate them into your dinner. Find the original recipe here.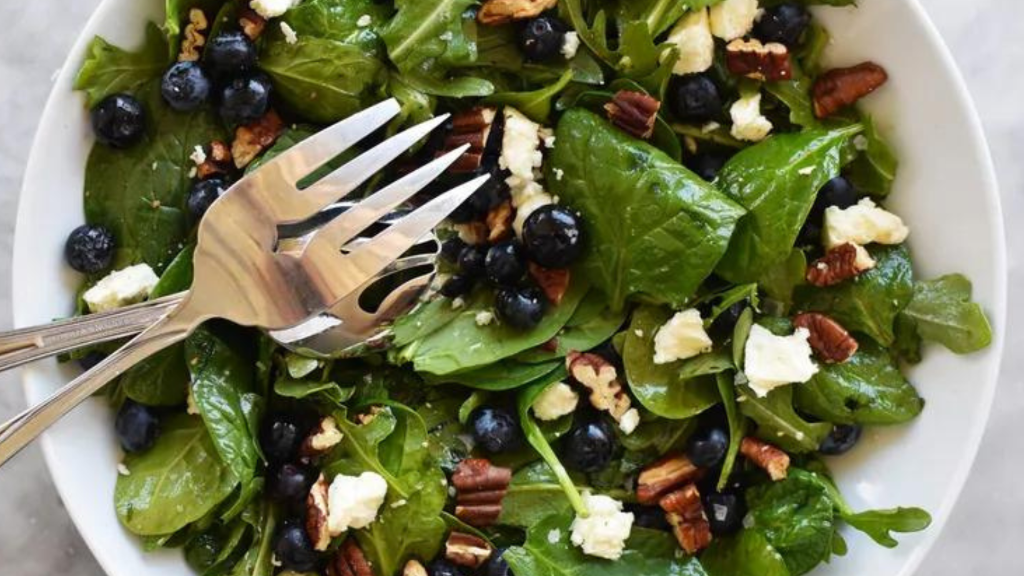 Ingredients
1 tbsp fresh lemon juice
1 tbsp balsamic vinegar
2 tbsp extra-virgin olive oil
⅛ tsp kosher salt
⅛ tsp freshly ground black pepper
4 cups spinach and arugula (We recommend picking up the Earthbound's Farm Spinach and Arugula Mix, available at any of our Food stores).
1 cup fresh blueberries (about 1/2 pint)
⅓ cup chopped toasted pecans
⅓ cup crumbled feta cheese
Directions
Whisk together lemon juice, balsamic, olive oil, salt and pepper in a large bowl. Add spinach and arugula mix, blueberries, pecans and feta cheese, tossing gently to combine.
Spring Role Salad
We know the kids always ask for them and turn their noses at the sight of a salad because it's vegetables. So, here's the happy compromise. See the original recipe here.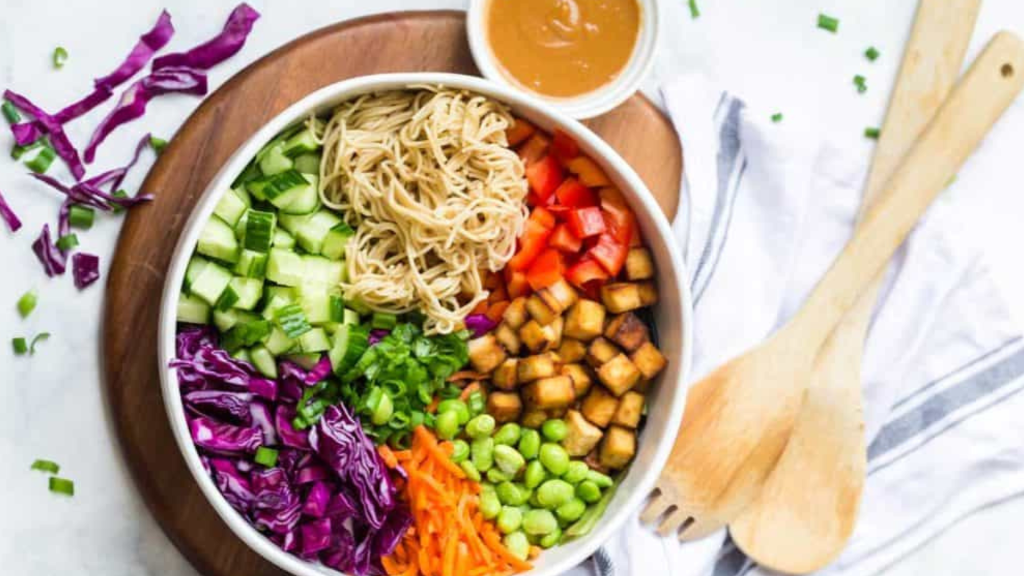 Ingredients

For the Dressing:
1/4 cup
1/8 cup peanut butter creamy
1/2 tsp maple syrup
1 1/2 tsp sriracha or chili paste
1 1/2 tsp roasted sesame oil
For the Salad:
70 g ramen (We recommend Co-op Gold's Wide Egg Noodles. Not only are they priced at every-day low prices, but also fresh).
4 cups lettuce
1 cup red bell pepper diced
1 cup cucumber diced
1 cup carrots shredded
1/2 cup purple cabbage shredded
8 leaves fresh basil
1 cube tofu
1/4 cup edamame shelled
3 stalks green onions thinly sliced
Directions

Cook noodles based on the package directions. After the ramen is cooked, optionally, drizzle some roasted sesame oil to keep them from sticking.
While the ramen is cooking, cut the vegetables, basil, and tofu.
Mix the salad dressing ingredients in a small bowl or mason jar.
Next, place all the veggies and the cooked ramen into a salad bowl. Dress the salad to your preference.
Toss the salad ingredients together until combined, and serve immediately.
The Jennifer Aniston Salad
Jennifer Aniston once said she ate the same salad on the set of Friends for ten years. So, of course, we had to give it a go. The best part about this one is that it has the protein in it. So, you can conveniently make this one and store it in the fridge or whip it up for an entire dinner. Find the original recipe here.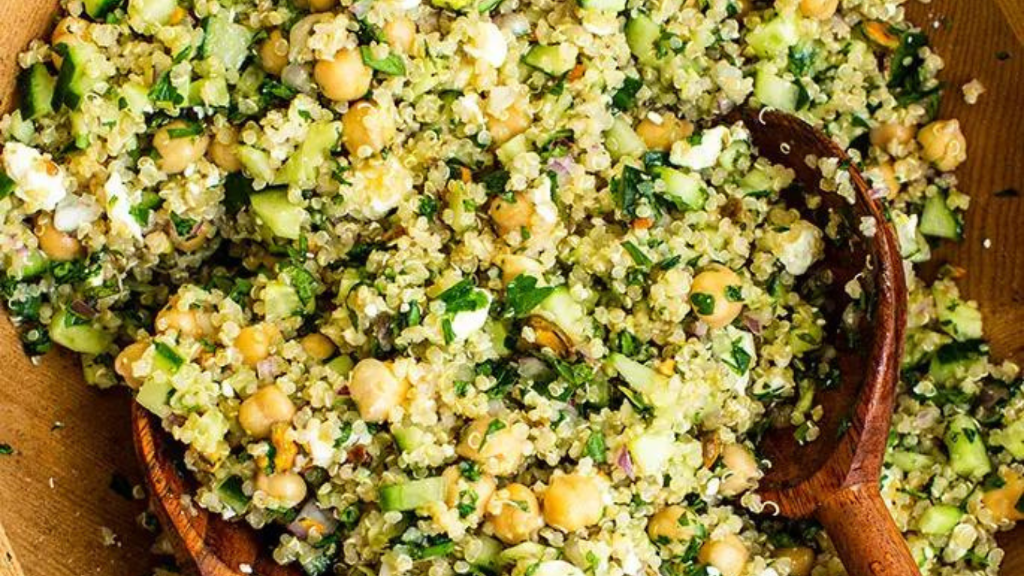 Ingredients
For the Dressing:
1/2 cup lemon juice (3-4 lemons)
1/2 cup extra virgin olive oil
1 tbsp honey
salt and pepper, to taste
For the Salad:

2 cups chicken or vegetable stock
1 cup dry quinoa
15oz can chickpeas, drained and rinsed
1 English cucumber, diced
1/2 small red onion, minced
1/2 packed cup fresh parsley, finely chopped
1/2 loosely-packed cup fresh mint leaves, finely chopped
1/2 cup roasted salted pistachios, chopped
1 cup (4oz) crumbled feta cheese
salt and pepper to taste
Directions
Add dressing ingredients to a jar with a tight-fitting lid or small bowl, then shake or whisk to combine.
Add chicken or vegetable stock to a small saucepan over high heat, then boil. Add quinoa; turn the heat low, place a lid on top, and simmer until broth has been absorbed for 15 minutes. Fluff the cooked quinoa with a fork, then scoop it into a storage container or large mixing bowl with a lid to cool. Once cool, cover and refrigerate until chilled. (This step can be done a day or two ahead of time).
Add chilled quinoa to a large mixing bowl and the remaining salad ingredients. Drizzle with the desired amount of dressing, then toss to combine and serve, or refrigerate for up to 3 days.
Discover more: