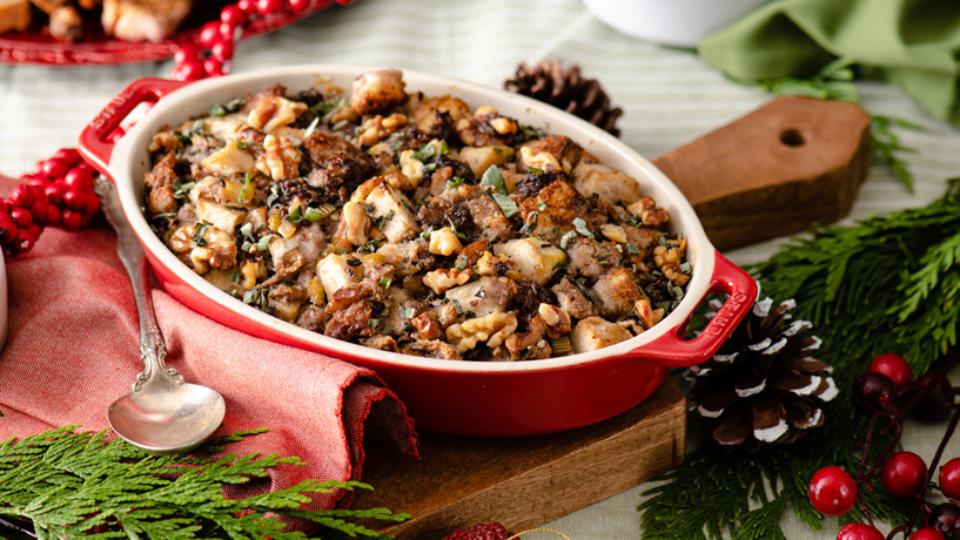 Apple Walnut Stuffing
November 12, 2019
INGREDIENTS

2 Tbsp CO-OP GOLD Olive Oil
1 large onion, finely diced
3 ribs celery, finely diced
3 cloves fresh garlic, minced
Kosher salt and freshly cracked black pepper to taste
1 lb spicy Italian sausage, casings removed, broken up into small pieces
3 Granny Smith apples, peeled, cored and cut into 1 inch dice
1 cup CO-OP GOLD PURE Apple Cider or not from concentrate apple juice
8 sage leaves, finely chopped
¾ cup toasted walnuts, chopped
10 cups stale French bread, crusts removed, cut into 1 inch cubes
2-3 cups CO-OP GOLD PURE Chicken Broth
DIRECTIONS

Serves: 12
Preparation time: 30 minutes
Total time: 70 minutes
Pre-heat your oven to 350°F.
Heat a large sauté pan over medium heat. Add olive oil, onions and celery. Season with salt and cook until veggies start to soften. Add garlic and cook a few more minutes.
Add sausage and using the back of your spoon, break into crumbly bits. If more than 2 Tbsp of fat in the pan, drain some off.
Stir in the apples and apple cider. Cook 3 to 4 minutes. Add sage and walnuts. Remove from heat. Add cubed bread and pour over the chicken stock.
Mix with your hands until bread is moist, adding more stock as you mix. Season with salt and pepper.
Transfer to a 9 x 13 inch baking dish. Bake 40 minutes, until internal temperature reaches 165°F.
Discover more: