AVOCADO MANGO GRILLED SHRIMP SALAD
Actions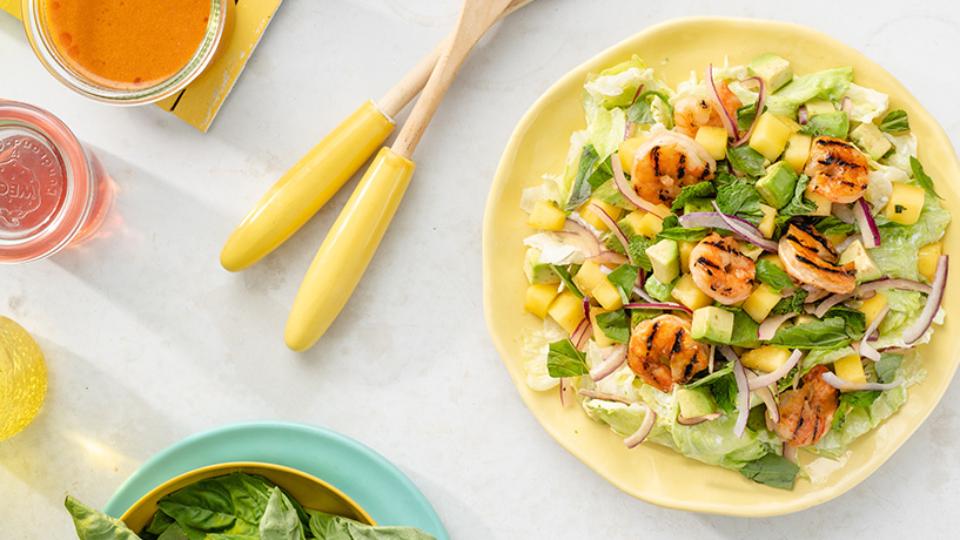 AVOCADO MANGO GRILLED SHRIMP SALAD
April 15, 2020
Everyone is spending a lot more time at home, which means an opportunity to try out some new recipes! Give this refreshing salad a taste, created for Co-op by chef Dale Mackay.
INGREDIENTS

Dressing

2 tablespoons CO-OP® GOLD Red Wine Vinegar
2 tablespoons lime juice
1 tablespoon sugar
1 teaspoon ground cumin
½ teaspoon Tabasco Sauce
½ teaspoon smoked paprika
¼ teaspoon salt
½ teaspoon garlic, about ½ a clove, crushed
⅓ cup vegetable oil

Salad

16 CO-OP® GOLD PURE® Black Tiger Shrimp, shelled
1 medium to large head of iceberg lettuce
¼ cup sour cream
1 teaspoon lime zest
¼ teaspoon salt
1–2 avocados, (1 cup) diced small
1 ripe mango, diced
¼ cup red onion, very thinly sliced
1 Small handful fresh mint leaves, torn
1 Small handful fresh basil leaves, torn


DIRECTIONS
Serves 4
Prep and Cook Time: 25 Minutes
Preheat barbecue to high heat.
Place all the dressing ingredients into a blender on high for 1 minute. Set aside.
Grill shrimp over high heat for 1½ minutes on each side or until internal temperature reaches 74˚C (165˚F) and place to the side.
Chop the iceberg lettuce into 1-inch thick slices. Break it up a bit with your hands and place into a bowl. Add the sour cream, lime zest and salt and toss well. Spread on a platter.
In a large bowl, toss avocado, mango, mint, basil, onions and shrimp together. Add about 1/3 cup of dressing, or to taste.
Top the iceburg lettuce with the shrimp mixture and serve.
Discover more: