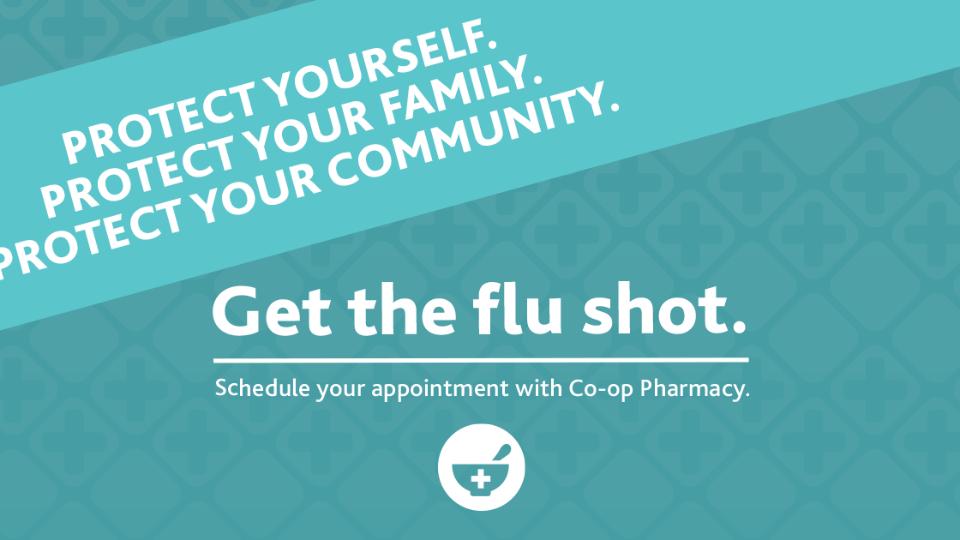 Flu Shots
October 1, 2020
CALL TODAY TO BOOK YOUR APPOINTMENT
Protect yourself. Protect your family. Protect your community.
The influenza vaccine is NOW available at your local Otter Co-op Pharmacy. Call and book an appointment today to protect yourself and those you love. Due to the COVID-19 Pandemic, we will not currently be accepting walk-ins. Please fill out the below mandatory package ahead of your appointment, as it is required prior to receiving your vaccine. Quantities are limited, so call quickly to book to get the flu shot today! Schedule your appointment with your local Co-op Pharmacy.
Our Pharmacy Phone Numbers to book your appointment are below:
Aldergrove — 604-607-6934
Glen Mountain — 604-851-9654
Mt Lehman — 778-655-5170
Parallel — 778-771-0410
Most people have had the flu at least once. They usually get better with rest, but some people are vulnerable to severe complications.
Who's at risk?
The flu, or influenza, is a common, contagious respiratory virus that circulates predominately in the fall and winter. Symptoms include sore throat, fever, nausea and fatigue. Most people get better after resting for a week or two, but in some cases, influenza can lead to hospitalization or death.
Some people are at higher risk of experiencing complications from the flu:
Young children
Pregnant women
Elderly patients
People with respiratory illnesses (COPD and asthma)
Cancer patients or others with compromised immune systems
Those with diabetes
In these populations, getting the flu can be a matter of life or death, which is why it's important for you to take preventative measures. Hand washing with soap and warm water can minimize the virus's spread. Another way is getting an annual influenza vaccination, or flu shot.
Discover more: