Glen Mnt Pharmacy is Moving
Actions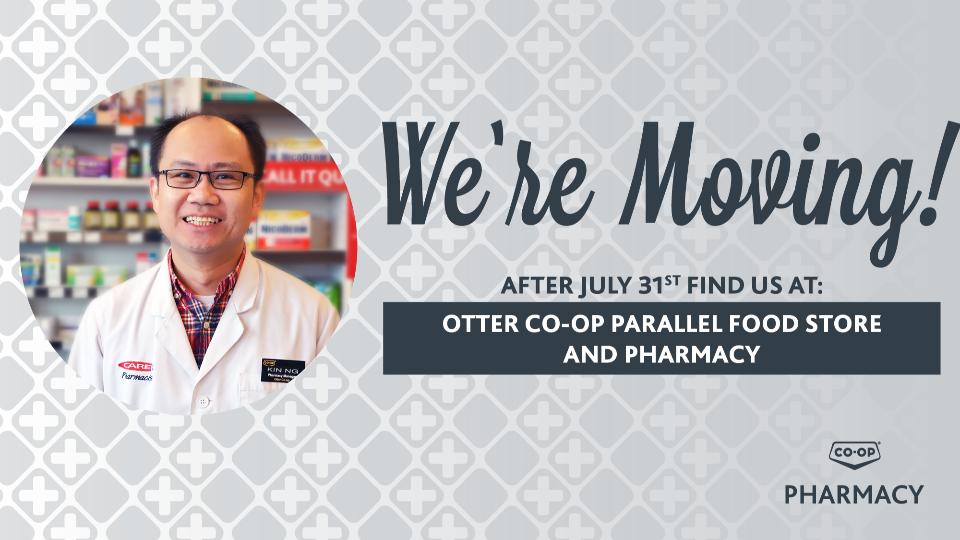 Glen Mnt Pharmacy is Moving
June 1, 2021
We're Moving!
Our Glen Mountain Pharmacy will be moving to their new location at the Otter Co-op Parallel Food Store and Pharmacy on 1888 North Parallel Rd. in East Abbotsford after July 31st, 2021.
Find us at 1888 North Parallel Road in East Abbotsford
Our new location is only minutes down the road! Find us inside the Otter Co-op Parallel Food Store and Pharmacy location in East Abbotsford.
Meet Kin!
Currently our Pharmacy Manager at Otter Co-op Glen Mountain, Kin will maintain the position of Pharmacy Manager after the move to the Otter Co-op Parallel Pharmacy. Kin has been working at Otter Co-op since 2013. He enjoys serving his community and assisting others with their healthcare needs. He really appreciates the feedback from his customers and
the support from the management and team members to perform his duties.
What Our Guests Say
Kin is amazing. We always appreciate how personable he is. He seems to know who EVERYONE is. I am always amazed that even when he is so busy he has a smile on his face and greets everyone with a smile and by their name. You are truly appreciated Kin.

Kin is absolutely amazing. It has been a very long time since we had a local pharmacist that we could get to know and feel like he cares.

The Otter Co-op pharmacies are amazing. I was so impressed this fall when I received a phone call offering to book flu shots for our family. Proactive outreach and member service - that's wonderful.

Discover more: