HOW A MEDICATION REVIEW CAN HELP YOU
Actions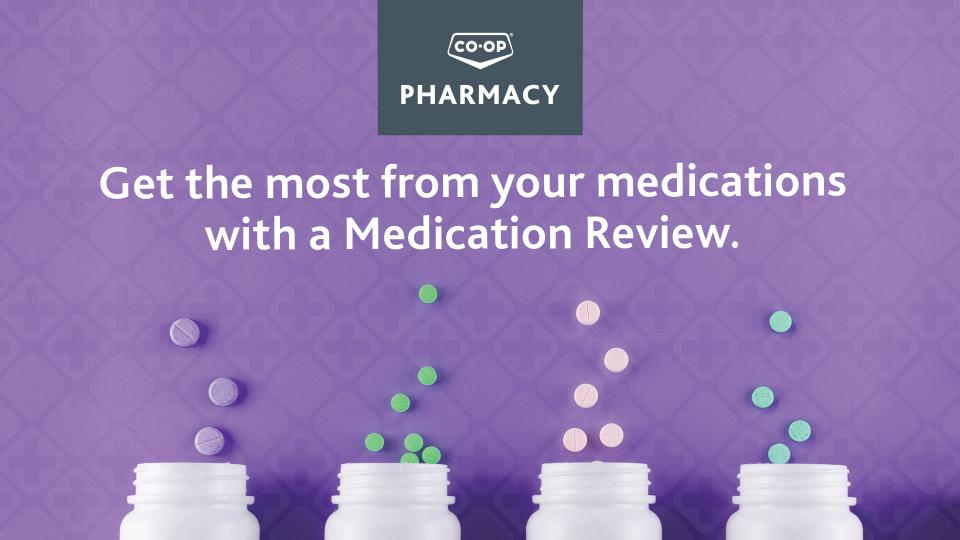 HOW A MEDICATION REVIEW CAN HELP YOU
March 9, 2020
Medication Review
When you're managing a number of prescriptions, it's normal to have questions about how they interact with each other and if they're providing the maximum benefit. A medication review will give your pharmacist the chance to dedicate extra time to look at your medications and ensure they are all working safely and effectively.
"A medication review allows the pharmacist to use their expertise to tailor your medication regimen to achieve your own personal goals and medication preferences," said Toni Sommerfeld, a pharmacist at Lake Country Co-op in Prince Albert, Sask.
How can a medication review help me?
During a medication review, the pharmacist will discuss health and medication history that isn't always part of the regular prescription filling process, explain the importance of each medication and answer any questions you may have.
"A medication review will often improve health by reducing or eliminating side effects [and] optimizing dosing regimens," said Sommerfeld.
Your pharmacist will discuss health promotion and disease prevention strategies, review techniques with various medical devices and provide tips for remembering to take your medication properly, which is a vital part of improving your health.
Who should have a medication review?
A medication review can be beneficial if you're taking prescription medications and any of these apply to you:
You're over 65 years old
You have one or more chronic medical conditions being treated with prescription medications
You take warfarin or another blood thinner
You have reduced kidney or liver function
You are experiencing side effects because of your medications
You're taking a large number of medications
Be ready for your review
To prepare for your medication review, it's important to bring all of your prescription and non-prescription medications, vitamin supplements, natural products and non-traditional medicines. Even eye drops, inhalers, patches and creams should be part of the review.
It is also helpful to bring information about your medical history and any problems you've had with previous medications. If you have diabetes or high blood pressure, bring a log of your blood glucose and blood-pressure readings.
Bringing a family member or caregiver who is involved with supporting your health and wellness can be helpful for many patients.
Your pharmacist will ask you about:
Your current and past medications and immunization history
Your height and weight
Allergies and intolerances
History of smoking, alcohol or drug use
Medical history for you and your family
Your knowledge of your medicines, their regimens and your challenges with staying on schedule
Your medication preferences, health concerns and health goals
Final steps

After your medication review, your next steps are easy.
"Your pharmacist will explain any plans for medication adjustments," said Sommerfeld. "They will then contact your primary care provider to discuss and finalize any changes."
After speaking with your primary care provider, your pharmacist will contact you to advise you of the finalized plan and explain any necessary follow-up. You will have an opportunity to ask questions at any time you wish by simply phoning the pharmacy.
If you have concerns or questions about the medications you're taking, call your closest Otter Co-op Pharmacy to schedule a medication review!
Call Your Local Co-op Pharmacy Today
Aldergrove Pharmacy: (778) 771-0410
Mt Lehman Pharmacy: (778) 655-5170
Glen Mountain Pharmacy: (604) 851-9654
Parallel Pharmacy: (778) 771-0410
Discover more: