Otter Co-op's 100th Anniversary
Actions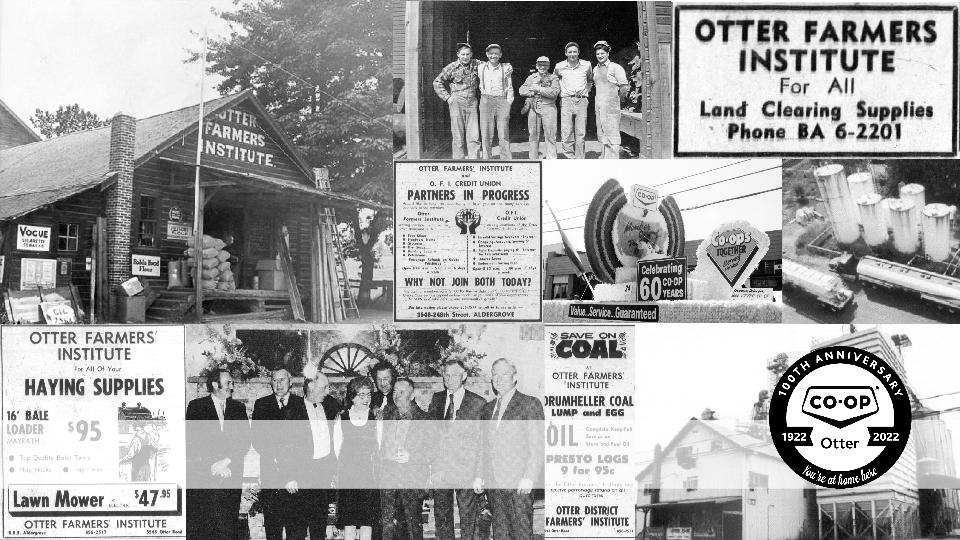 Otter Co-op's 100th Anniversary
March 4, 2022
Otter Co-op is proud to announce the beginning of celebrating our 100th anniversary, you will already notice changes on our social and web pages. We only get to turn 100 once, so we're doing it right!

When we started the anniversary planning process, we wanted to tell our story, as we're very proud of our history. Every week we will be sharing historical photos on our social pages with #flashbackfriday.

In April we launch our "Member-abilia" contest asking for submission of photos and stories for a digital photo album, and through the spring, summer and fall you will get the opportunity to participate in special 100th anniversary contests and special savings at our retail locations.
We've partnered with Wagner Hills in Langley, BC, to design hand crafted 100th anniversary charcuterie boards. They are available in the Deli section at our three Food Stores. These boards make for great gifts or even just for yourself. They come in four sizes and range from $25 - $55 with 100% of the proceeds from these boards goes directly back to Wagner Hills to continue to support their mission in helping those in recovery.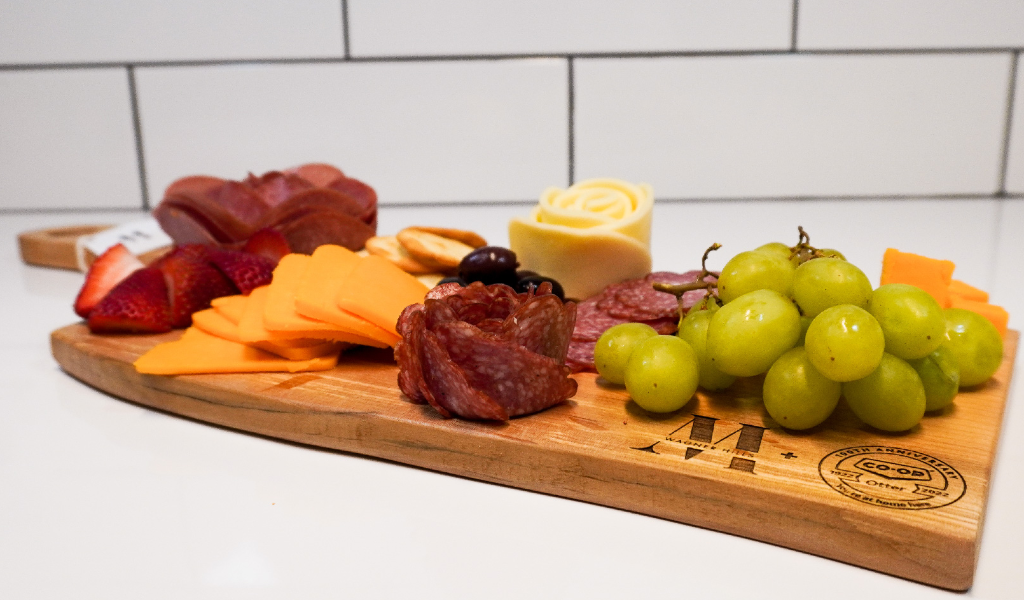 We've launched an in-store contest to win some amazing prizes for the month of July. Congratulations to Dereck S for winning Free Groceries for a Year ($4,800) and Mark M for winning a $5,000 Travel Voucher!
Our three Food Stores held a 100 Second Shopping Spree, check out the videos below!
Ednah C. at Mt. Lehman
Valerie M. at Parallel
Nearissa K. at Langley Retail

As permitted, we will be hosting a variety of fun and interactive community events leading up to a big birthday celebration in October. Our birthday party was on Wednesday, October 19 and we had food trucks, a live band, cake and coffee, a petting zoo, kids games, opened a time capsule from the 80's and had some special guests drop by to congratulate us. Thank you to all who were able to join us!

We also wanted to give our team a way to make the future a little brighter for people in need – especially now when the need is so great. With that in mind we have committed $100,000 intended to make a positive difference to 100 local charities this year in the areas where Otter Co-op team members live, work and play.

Since being founded Otter Co-op has come through all kinds of challenges. Through it all, it has been the people of Otter Co-op – our members, team, guests, and partners – who've made the difference. By working together and supporting one another, we managed through the tough times and celebrate the good ones, now and for the next 100 years.

Otter Co-op is a diverse and growing organization, serving the Lower Mainland, Fraser Valley and BC Interior since 1922. With over 100 years in business and over 800 Team Members, we are proud to be a locally owned and community minded member of the neighbourhoods we live, work and play in. We operate three food and pharmacy stores (including one with a fashion and hardware department), twenty-six Angry Otter liquor stores, two feed mills, two bulk petroleum facilities, the Angry Otter Tap & Forno and Brewery in North Vancouver, the Highwayman Pub in Abbotsford, the Sawbucks pub in South Surrey and twenty-five gas station/convenience stores. Come stop by one of our locations to truly find out why our motto is "You're at Home Here."

We are locally minded, and community invested based on our core company values of Integrity, Community and Excellence.