Please remember your reusable bags
Actions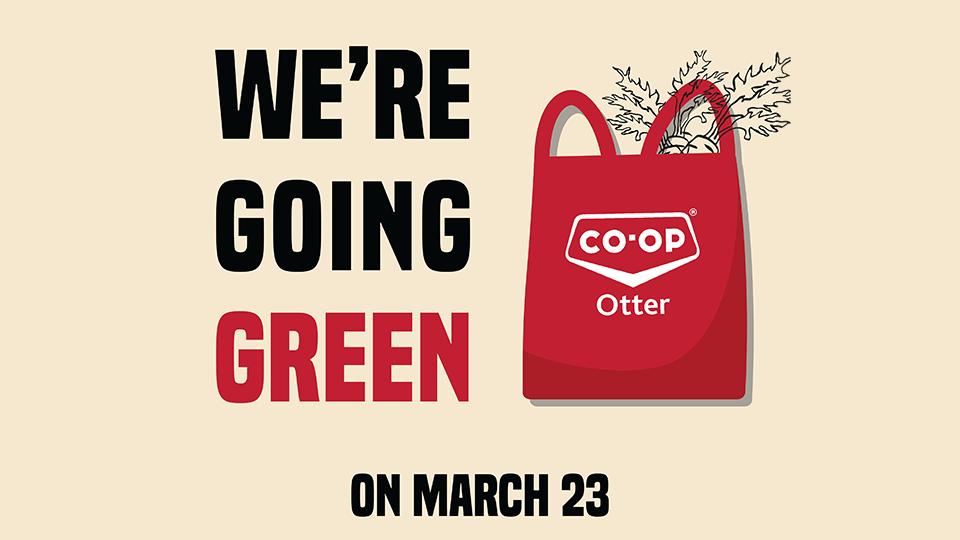 Please remember your reusable bags
March 13, 2023
On March 23 we're going green inside all 3 of our Food Stores!
As per Canada's ban on the manufacturing and import for sale of single-use plastics, Otter Co-op will no longer be supplying our guests with plastic bags. For guests who forget to bring a reusable shopping bag with them, we will have paper bags available for $0.25 and reusable bag options starting with $0.33.
Q: Will you still offer plastic bags for produce?
A: Yes, we will continue to offer plastic produce bags for guests. Compared to pre-packaged produce options (i.e: bags of apples, plastic produce bags continue to be a good choice for guests to select the correct amount of produce for them, and avoid excess food waste that may come from purchasing larger pre-packed sizes.
Some guests may elect to not use them at all, and purchase bulk items with no bag at all. Our current plastic bags are made of a highly recyclable plastic, compared to other plastics, and we are continuing to explore alternative materials such as a post consumer recycled content bag and other environmentally conscious options.
We also encourage that customers switch to our special reusable Co-op Gold Mesh Produce Bags. These reusable produce bags have been made specifically to work with our weight scales at our checkouts. You can purchase these at our food stores.We are a member of the Canadian Plastics Pact, and we continue to comply with the recommendations set out in that program.
Q: Why should plastic bags be eliminated?
A: The federal Government has mandated that plastic checkout can not be manufactured or imported for sale in Canada after December 20, 2022 and will not be able to be sold in Canada after December 20, 2023. This is due to the fact that Plastic bags are not biodegradable: When plastics bags become litter, they pollute oceans, rivers, farmlands, cities, and neighborhoods. Bans eliminate bags, which equals less litter and less pollution.
Q: Why not switch to paper bags as an eco-friendly alternative?
A: Paper bags are recyclable, but paper is very resource-heavy to produce. Manufacturing a paper bag takes about four times as much energy as it takes to produce a plastic bag, plus use harmful chemicals in production. Studies have shown that, for a paper bag to neutralize its environmental impact compared to plastic, it would have to be used anywhere from three to 43 times.
Q: Will you be eliminating other single-use plastics and disposables at your food stores?
A: Federated Co-operatives Limited, on behalf of 160 local Co-ops across Western Canada, has signed the Canada Plastics Pact (CPP), committing to reducing problematic plastics throughout our supply chain.
"Signing this Pact signals our collective commitment to focus on the sustainability of our communities in our business practices and to do our part as stewards of the environment," explains Pam Skotnitsky, Vice-President, Strategy, FCL. "Reducing our use of plastic packaging materials will help ensure we are doing our part to pass a healthier planet on to future generations. At the end of the day, it's the right thing to do."     
While this partnership is new to the Co-operative Retailing System, reducing plastic use has been a focus for some time. For years now, Co-op has focused on finding environmentally friendly plastic alternatives. These changes have included switching to non-plastic, compostable straws, stir sticks, cutlery and take-out containers. Additionally, Co-ops have worked to eliminate plastic rings from our private label canned beverages and are providing customers with the option to use paper bags and reusable totes.
The Canada Plastics Pact focuses on bringing businesses, government and other key players together to create a circular economy for plastics in which plastic stays in the economy and out of the environment. The CPP has set clear, actionable targets for 2025:
Take measures to eliminate problematic or unnecessary plastic packaging.
100% of plastic packaging is designed to be reusable, recyclable or compostable.
50% of plastic packaging is effectively recycled or composted
30% recycled content across all plastic packaging