Roasted Delicata Squash With Walnuts, Goat's Cheese And Tahi
Actions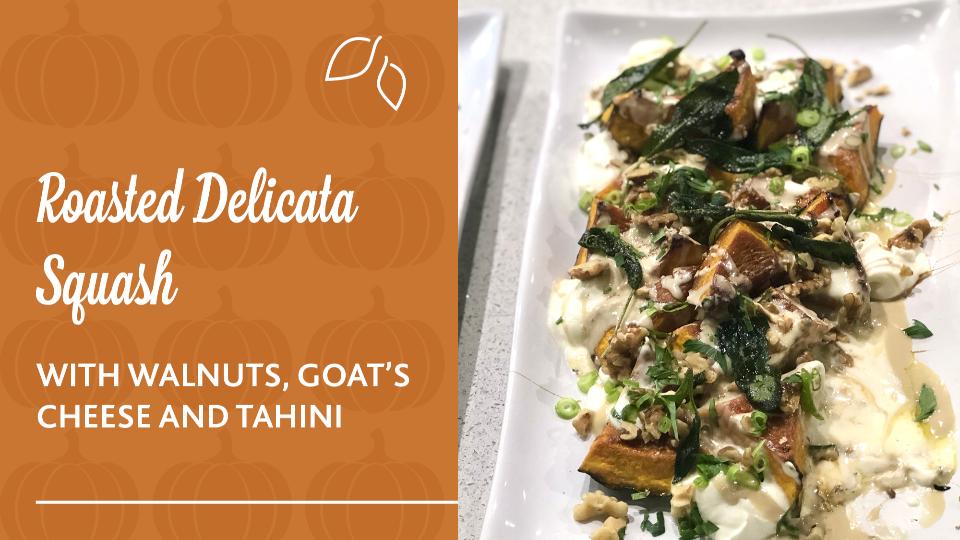 Roasted Delicata Squash With Walnuts, Goat's Cheese And Tahi
October 2, 2020
Join Chef Deniz and Angie in the Well Seasoned kitchen and get some tasty inspiration for your Thanksgiving dinner. Featuring all of the delicious LOCAL produce available at Otter Co-op.
Roasted Delicata Squash With Walnuts, Goat's Cheese And Tahini
Prep Time: 10 Minutes
Cook time: 15 Minutes
Serves: 4
Ingredients:
2 delicata squash, or any favourite variety, cut in half, seeds scraped
50ml melted butter
30ml maple syrup
4 sage leaves
100ml fresh goat's cheese
50ml walnuts, roasted and coarsely chopped
50ml tahini
3 stalks of chives, thinly sliced

Instructions:
Preheat your oven to 425F. In a large skillet brown the butter with sage leaves. Season the squash flesh with maple syrup and sprinkle with salt. Roast until tender, depending on the variety of squash. Whip the goat's cheese in a food processor until smooth and airy.
Stuff the squash halves with goat's cheese, sprinkle with walnuts and drizzle with tahini.
Garnish with chives and crispy sage leaves, serve warm.
Discover more: