Thanksgiving Slaw With Cabbage, Apple And Bitter Leaves
Actions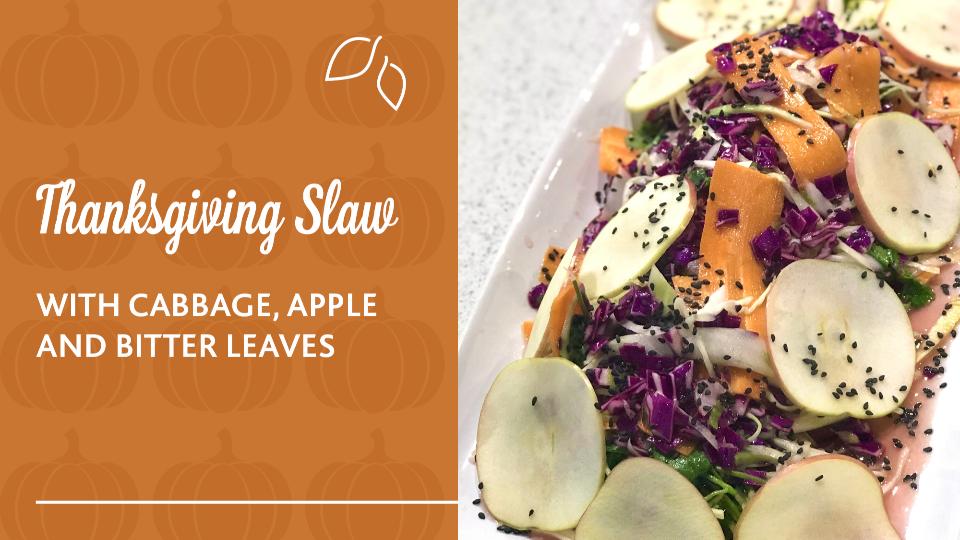 Thanksgiving Slaw With Cabbage, Apple And Bitter Leaves
October 2, 2020
Join Chef Deniz and Angie in the Well Seasoned kitchen and get some tasty inspiration for your Thanksgiving dinner. Featuring all of the delicious LOCAL produce available at Otter Co-op.
Thanksgiving Slaw With Cabbage, Apple And Bitter Leaves
Prep Time: 15 Minutes
Serves: 4
Ingredients:
1/4 head of white cabbage, thinly sliced
1/4 head of re cabbage, thinly sliced
2 granny smith apples
40ml fresh ginger, sliced into thin matchsticks
1/2 bunch cilantro, cleaned
3 spring onions, sliced thick
1 Belgian endive, cut into1/6'' slices lengthwise
1/2 large carrot shaved into thin rounds
8 red radishes, cut into half moon shapes
30ml maple syrup
50ml rice wine vinegar
20ml fish sauce
2 cloves garlic
1 lime juice
Black sesame seeds

Instructions:
Put all the vegetables in a large mixing bowl and season with salt very gently and marinade for 5 minutes.
In another bowl whisk in maple syrup, rice vinegar, lime juice and fish sauce until combined. Add to the vegetables, toss well and marinade for another 5 minutes.
Toss well to combine and garnish with sesame seeds, serve.
Discover more: