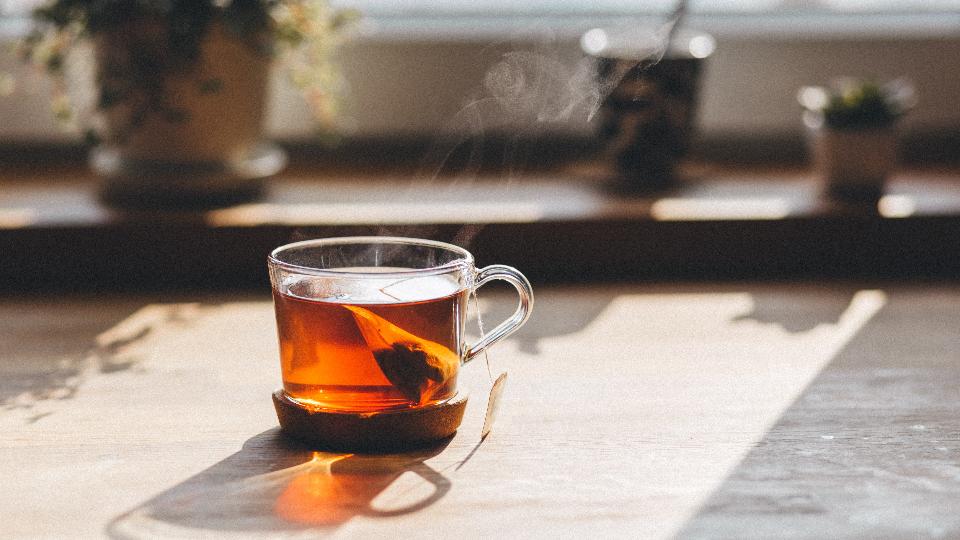 Think Outside the Bag
December 31, 2019
The world of tea is changing—and CO-OP GOLD PURE® Tea is bringing that innovation to you. Ethically sourced and allergen-free, this selection of teas uses only natural ingredients, but with interesting and unique flavours. Dream big—milk and sugar are no longer the only answers to the question, "How do you take your tea?" With Co-op Gold Pure Tea, steeping the bag in hot water is just the beginning.
A Legacy Dedicated to Quality

"There's a story behind every tea," said Christian Sauvé, Director of Innovation for Trans-Herb Inc., the company that produces Co-op Gold Pure Tea.
Trans-Herb is a family-run business in Quebec, founded in 1992 ago by the company's current president Johanne Dion. "She was a visionary—a woman starting her own business took lots of guts," said Sauvé. It's the largest female-led Canadian tea company and proud of it.
Trans-Herb is also passionate about high-quality products and interested in knowing the origin of those products. It has developed close relationships with its plant suppliers—direct sourcing to cut out the middleman by knowing each farmer from every farm. "The chamomile supplier has been around for longer than I can remember," said Sauvé, who has worked for Trans-Herb for 20 years.
Chamomile is one of three Co-op Gold Pure Tea varieties that are Fairtrade certified. The peppermint and green teas are the other Fairtrade options.
"It improves the lives of the men and women in the field," said Sauvé, explaining what it means for a product to be Fairtrade certified. "They can reinvest money into their community. In some cases, that's opening local schools or hospitals, or starting retirement funds."
Trans-Herb's commitment to quality hit all the right notes for Federated Co-operatives Limited's Store Brands Manager.
"We had been looking for a tea supplier for a few years with no success until we met Trans-Herb," said Sav Bellissimo. "The passion, quality, and unique selection of flavours fit perfectly with what we envisioned for Co-op Gold Pure Tea."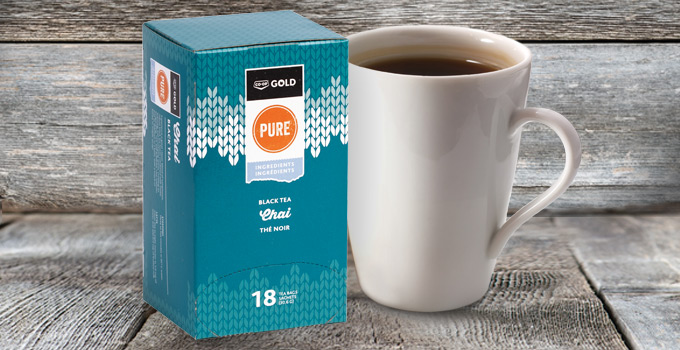 Inspiring Flavours and Surprising Uses

On top of its impressive history, Trans-Herb is also a leader in developing unique flavours. For example, the Co-op Gold Pure Cinnamon Spice Tea is similar to chai, but without the caffeine.
"It's spicy and sweet at the same time—it makes a great latte," said Sauvé, noting tea's rising popularity with millennials. "They're keen on trying new things and often want to bring home the coffee house experience. That's what we've created with the Cinnamon Spice Tea."
Sauvé suggested freezing the Cinnamon Spice Tea into ice pops during the summertime. Steep the tea in coconut milk and sweeten with agave syrup or honey. Then pour into an ice pop tray and freeze.
You can create your own cup of Golden Milk (a turmeric latte with Indian spices) with the Turmeric Ginger Herbal Tea, and you don't have to worry about mixing your ingredients. "It's all already in the bag," said Sauvé.
To create a tea latte, simply steep a strong but small cup of tea and pour hot, frothed milk or a dairy-free alternative over top. Try it with the tea flavour of your choice.
The Turmeric Ginger Herbal Tea can also be enjoyed iced. For maximum flavour use one tea bag per cup. Infuse half of the volume of hot water and cool it with half the volume in ice cubes.
Dessert lovers will enjoy the Truffle Mint Tea. "It's so healthy, yet so decadent," said Sauvé. "It makes a great latte. You get the balance of chocolate and cooling peppermint. It's naturally sweet. You could turn it into a wintery cocktail by adding dark rum." The delicious possibilities are nearly endless! Do you have a favourite tea? Let us know on Facebook or Instagram!
Discover more: