YOUR LOCAL OTTER CO-OP PHARMACY
Actions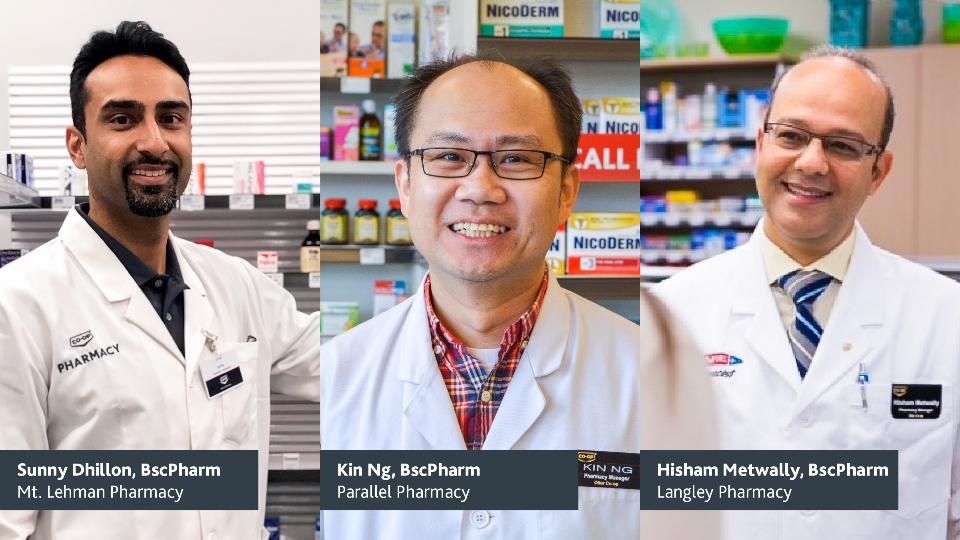 YOUR LOCAL OTTER CO-OP PHARMACY
April 4, 2022
Compliance Packaging
If you have a number of prescriptions to keep track of, it can be confusing, but your Co-op pharmacist is here to help!
What is compliance packaging and how does it work?
Compliance packaging refers to packaging medication in organized blister cards.
Simply punch out the medication from the blister when that dose is due.
The packages are typically dispensed in four- or five-week sets. Each card is labelled with either a description or picture of each medication so you will always know what medications you are taking.
What medications can be included in the compliance packs?
Most medications can be included whether they're prescription or over-the-counter medication. There are a few medications that must be dispensed in their original packaging, but your pharmacist will tell you if this is the case.
Who is compliance packaging for?

Anyone who would like peace of mind about their medication should consider compliance packaging. It can help tremendously with clarifying confusing instructions and medication adherence.
Compliance packaging can help you avoid missing doses of important medications and offer reassurance that you have taken your doses if you forget later, especially if you have multiple medications to take at different times throughout the day.
If you choose this option, it also allows you to pick up all your medications at the pharmacy once per month instead of multiple times.

Are there a certain number of prescriptions I need to have before I can access compliance packaging?
There is not a minimum number! Pharmacies have blister packed anywhere between one and twenty medications.
Are there additional costs to having medication compliance packaged?
Typically, there are not additional costs associated with the actual packaging of the medication. However, the medications packaged will be filled every month as opposed to situations when medication is filled every two months or every three months.
When you need some extra help organizing your medications, your Co-op pharmacist is here to help! Get in touch with them today.



Co-op Pharmacy App

The Co-op Pharmacy app puts convenience at your fingertips with secure, confidential access to your prescription profile. Refill your prescriptions quickly and easily from just about anywhere. Receive pick-up reminders from your local Co-op Pharmacy the moment your prescriptions are ready. The new Co-op Pharmacy app is designed to fit perfectly in your busy lifestyle and make your pharmacy experience a breeze.
Patient Login provides private and confidential access to your prescription profile on demand. Here you'll find the names and doses of each medication, directions for use, last fill dates of each prescription, number of refills remaining and expiry dates of each prescription.
The size, shape and colour of each medication is also provided to make it easy for you to identify which medication is which. Easily track your full list of medications when you visit your doctor or when you're travelling with the Patient Login function.
Take control of your refills, get notified and find a wealth of pharmacy information on the app today.
Download the new Co-op Pharmacy app to keep you connected to your local Co-op Pharmacy and change the way you manage your health.
Sign up for our Pharmacy e-mail HERE
Otter Co-op Pharmacy Locations:
Aldergrove Retail Centre
3650 248th Street, Langley BC V4W 1x7
Hours:
Sunday: 10:00am — 5:00pm
Monday-Friday: 9:00am — 7:00pm
Saturday: 9:00am — 5:00pm
Phone: (604) 607-6934
Fax: (604) 856-3101
Parallel Pharmacy
#100 1888 North Parallel Road, Abbotsford BC V3G 2C6
Hours:
Sunday: Closed
Monday-Friday: 9:00am — 6:00pm
Saturday: 9:00am — 6:00pm
Phone: (778) 771-0410
Fax: (778) 771-0411
Mt. Lehman Pharmacy
#250 3270 Mt. Lehman Road, Abbotsford BC V4X 2M9
Hours:
Sunday: Closed
Monday-Friday: 10:00am — 6:00pm
Saturday: 10:00am — -6:00pm
Phone: (778) 655-5170
Fax: (778) 655-5171
Discover more: